1/5
Custom Size Coffee Sachet Packaging Bag with Printing Food Stand up Pouch
$ 0.01 ~ $ 0.10/slice
50000/slice
(Min. Order)
Quick Details
Payment:
VISA,T/T,L/C,Western Union,MasterCard
Shipping:
Support Express · Sea freight · Land freight · Air freight
Supply Ability:
600 slice per month
Product Name

Custom Size Coffee Sachet Packaging Bag with Printing Food Stand up Pouch

Material

2Layers laminated materials BOPP/CPP ,BOPP/MCPP,BOPP/LDPE ,BOPP / MBOPP ,BOPP/PZG PET/CPP ,PET/ MCPP ,PET /LDPE ,PET / MBOPP PET/EVA

3 Layers laminated materials: BOPP/MPET/LDPE , BOPP/AL/LDPE , PET/MPET/LDPE , PET/AL/LDPE , PET/NY/LDPE Kraft Paper /MPET/LDPE

4Layers laminated materials: PET/AL/NY/LDPE

Feature

Environmental Protective, Excellent barrier property, Eye-catching Printing

Usage Field

Snack,milk powder,beverage powder,nuts,dried food,dried fruit,seeds,coffee,sugar,spice,bread,tea,herbal,wheat,cereals, tobacco,washing powder,salt,flours,pet food,candy,rice, confectionaries etc

Other Service

Design creation & adjustment.

Free Samples

Various types are available with freight collect

Note

1)We will offer you price referring to your detail request, so please kindly inform us of the material,thickness,size, printing color and other requirements you prefer,and the special offer will be given. If you don't know detail information, we can give you our suggestions. 2)We can supply free similar samples, but exact sample fee required.


Film Structure

Packaging Properties

Common Application

NY/PE

Excellent low temperatureresistance

Frozen Foods

Good moisture barrier

Meat products

Good high temperature applications

Liquid products

Suitable for vacuum applications

Snacks

PET/AL/NY/PE

Excellent moisture barrier

Liquid products

Tough and high impact resistance

Pet food

Exellent light and aroma barrier

Curry & high acid peoducts

PET/NY/CPP

High temperature end-use

Prepared food

High chemical and oil resistance

Precessed meat

OPP/PE

Superior moisture barrier

Soup

Excellent oxygen and light barrier

Instant foods

PET/PE

Superior moisture barrier

Versatile for different food products

Rice derived products, Snacks, Tea, Deep fried Products Rice Powder Snacks

Good seal ability and good vacuum retention

Rice

Powder

Snacks

If any problems about the structure, please contact us for the details.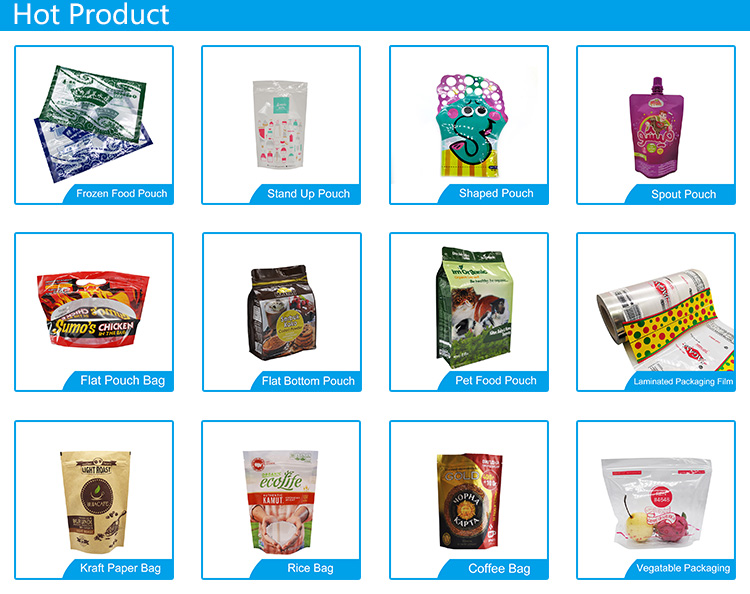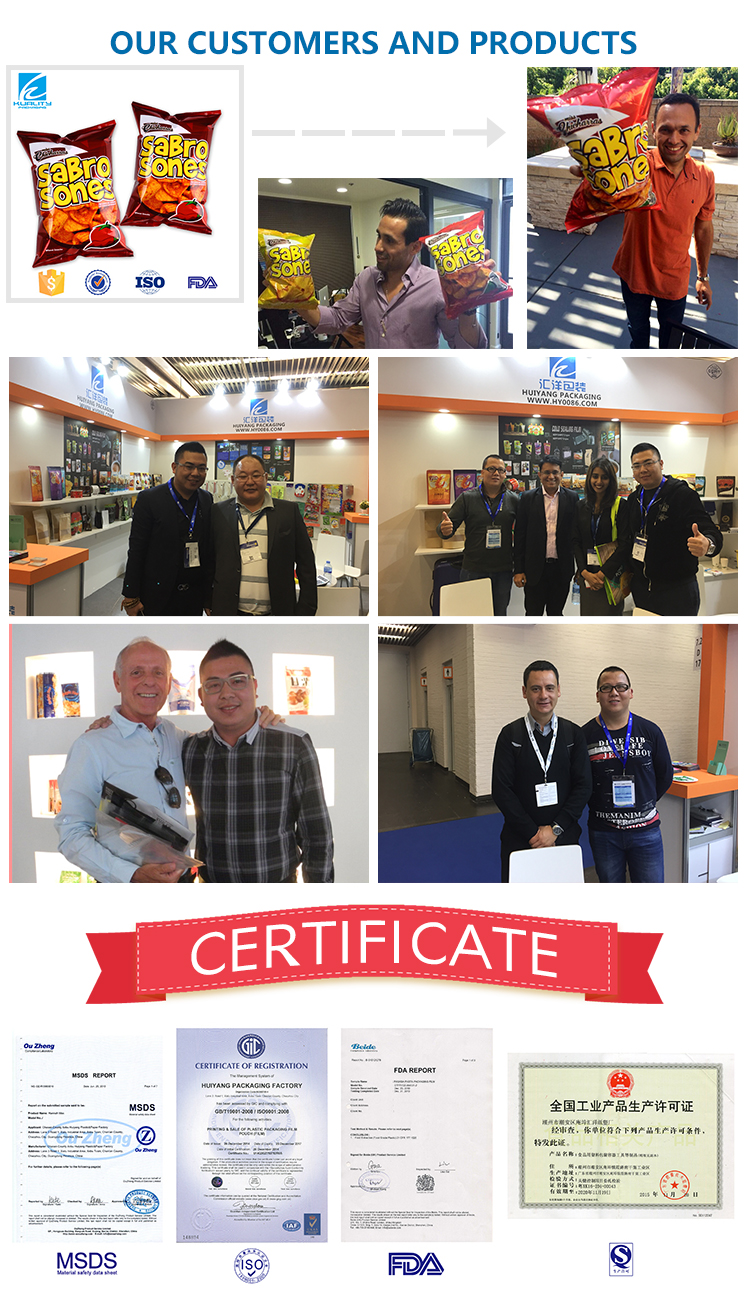 | | |
| --- | --- |
| | Cartons are made from 5-layer corrugated papei which is strong resistance.1 here is a plastic bag in each carton in order to prevent the products dry fromthe wet weather or the carton broken. |
| | Bags are well collected into the carton by bundles in case the bags are scattered when you get them. |
| | Shipping marks are sticked on the cartons for counting. |
| | Cartons are packed by plastid belt in case that the products are broken by punching when they are moved. |

Name:Yion

Moible Phine:+86 17859627646

Wechat:17859627646
Whatsapp:+86 17859627646
E-mail:sales5@huiyangpackaging.com
GUANGDONG HUIYANG PACKAGING CO.,LTD.

Located in Anbu Town,Guangdong Province, GUANGDONG HUIYANG PACKAGING CO.,LTD. specializes in customized flexible packaging film and bags manufacturer and supplier and exporter. We are expertise in export business for many years, Have our own factories. Now we service clients around the world, mainly in America,Australia,Europe, Africa and many other Asian countries.
We introduced the most advanced production line from all over the world, Including high-speed 10 color gravure printing machine, laminating machine, non-solvent lamination machine,bag making machine, slitting machine,the use of an area of 20000 square meters.
We specialize in all types of flexible packaging with different materials tructures and various kinds of laminated film that meet food grade.
side gusset coffee stand up pouch

Side gusset pouches are named for the gusset, or fold, on either side of the bag. The gussets expand when the package is filled with product, and the weight of the product usually holds the bag upright.
The format of side gusset pouches is a pouch with two side gussets and a bottom sealing. One side of the pouch remains open allowing for easy filling and sealing. The products get extra strength with the help of a bottom sealing. The central seal allows the pouch to stand by itself and provide the bottom seal with more strength.
Side gusset pouches are typically closed by rolling up or folded over the top and then using a label or tin tie after sealing; an integrated zipper is not an option here.
Traditionally used for coffee and tea, side-gusset pouches are going popular in the food, snack and baked food industries.
Quad Sealed Side Gusset Pouch
The quad seal side gusset pouch is of a similar style to the side gusset pouch. The main difference is that, as the name indicates these pouches are sealed on the four corners, rather than the back. This gives the packaging more of a square look, and makes it possible to integrate a zipper. Quad sealed side gusset pouches offer four crisp, clean panels for labels and graphic placement and an overall strong shelf presence.
What features do Side Gusset Pouches have?
o A traditional style of flexible packaging, the side gusset pouch is cost-efficient and convenient to use, meaning most retail packaging in larger weights is of this variety. They are chosen due to their ease of use and less space occupying factor.
o The side-gusset feature allows your package to be displayed vertically or horizontally, giving retailers more options for shelf display.
o The straight lines give it a characteristic minimalistic look, and the bag won't stand up well but will have a solid feel when you hold it.
What kind of products are Side Gusset Pouches suitable for packaging?
o Solid foods (coffee, loose-leaf tea, cocoa, cookies, nuts, snack mixes, etc.)
o Baked food
o Powder mixes
o Pet food
o Various other applications